Multi - Frequency Ultrasound (US-751)

A user-friendly ultrasound therapy system with a convention-defying style and color scheme. The US-751 achieves a very low BNR figure of 2.4 to 3.0. Lower BNR means more uniform beams and safer, more effective therapy. Large 7-inch TFT color touch screen, Ease of use, Programmable, Selectable coupling sensitivity, Displays probe contact status on both the probe (1 and 3 MHz) and main unit, A choice of two melodies to signal end of therapy.
Free program memory.
Automatic calibration of traction force to maintain correct traction force (PAT.P).
Both the set value and the actual value are displayed on the screen.
One of three melodies signaling the end of therapy can be selected to distinguish which system has completed therapy.
Pleasant touch key sound. Either monotone or sol-fa sounds can be selected.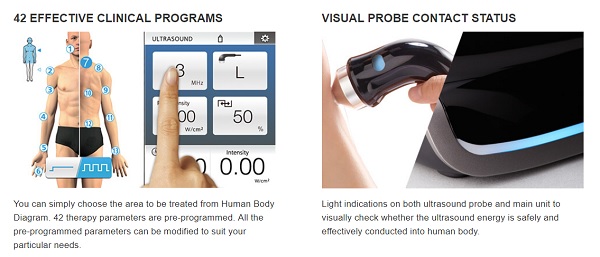 US-101L / US-103S
A new style in portable ultrasound therapy systems, catering to the needs of athletes and others. The system is readily available when needed and is ideal for treating sprains, muscle pains, or joint contracture on the spot. Two models available, US-101L 1MHz or US 103S 3MHz unit. One-hand operation, Waterproof, Low BNR, Clear LCD, Rechargeable battery (optional).
Features
Portability
One-Hand operation
Waterproof
Low BNR
Rechargeable Battery Available (Optional)